Portfolio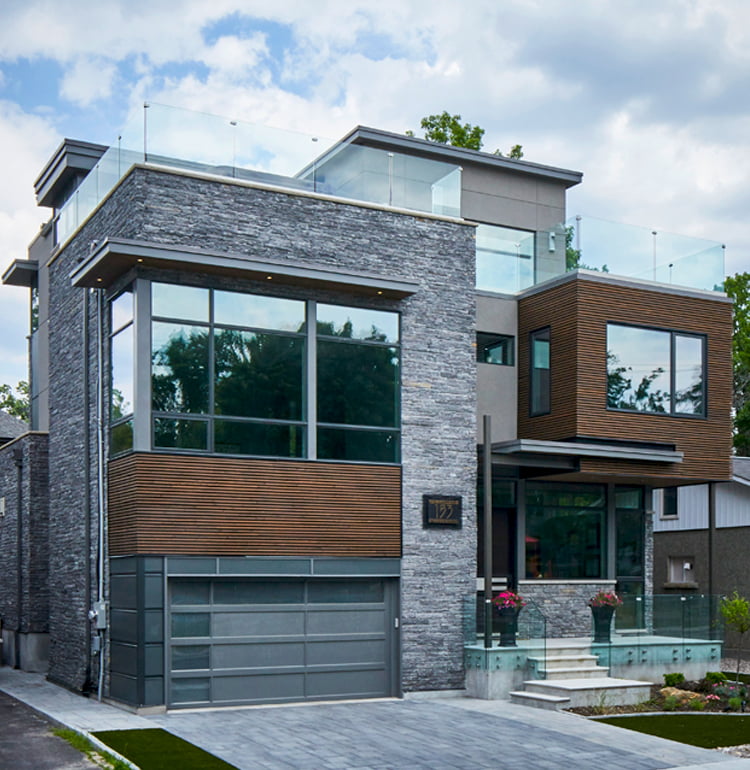 About Carleton Avenue Home Overlooking Champlain Park
Located fronting beautiful Champlain Park, this contemporary custom home replaces a small bungalow with a majestic 3-story family home.
The development concept was to capture vista views of the surrounding parks, forested riverside and views of the Gatineau hills beyond, while creating both interconnected interior open spaces and a third-floor out door terrace.
This new custom home rooted in the middle of Carleton Avenue's northern area is designed to enrich the intimacy of the front entrance with layered canopies, posts, balconies and stairs. The varying volume features, of the front facade hallmark a variety of noble materials while admitting natural light and views through corner windows and graduated height development.
The Interior layouts are open and unencumbered permitting external light and vistas throughout the main floor spaces. Achieved through an open stairway that floats on a single support beam; and glass interior walls that provide acoustic barriers while still allowing full natural illumination of the home.
Exceptional features of this home include, a full one and a half story great-room over the garage that is large enough to accommodate a mountaineer climbing wall. A glass office located within the entrance, allowing for professional privacy, while creating a portal of light that is carried through to the heart of the home. An efficient 4-bedroom second storey is crowned by an independent third floor Master Bedroom, complete with en-suite and closets, and a private balcony terrace overlooking the community park and distant views of the Gatineau hills.