Portfolio
Tweedsmuir-Duncairn
Residential Infills
|
Multi-unit residential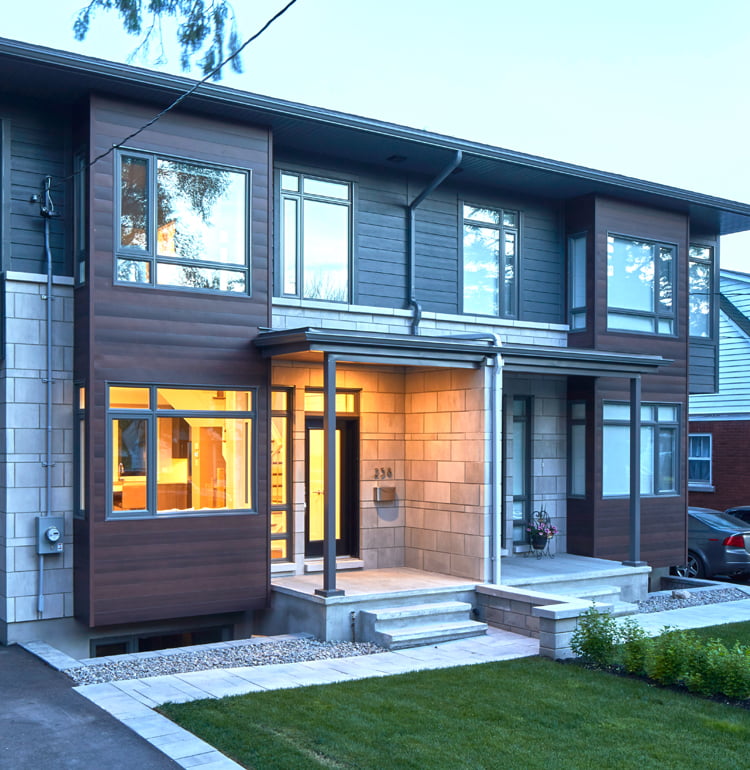 About the Tweedsmuir-Duncairn Project
Located in the heart of a desirable established residential area, this well treed corner property originally supported a detached modest single family home. The development concept was to intensify the property with 3 smaller, more compact homes rather than providing larger more expensive semi-detached units that was the norm for area lots.
Three new units sit on the corner property. Two semis face the quieter Duncairn Street and a single faces Tweedsmuir. All three units form the concept for which minor variances were approved. Another important consideration for this project was preserving a row of mature trees anchoring the corners of the original property.  These beautiful trees add an intimacy to the scale of the buildings, light and shadow textures to the elevations, and a timeless serenity veiling the properties of the development.  The exterior volumes play among the branches, nestled in like tree houses, while being grounded to the earth by their stone bases.
The interior layouts are extremely compact and functional yet feel very spacious.  With no interior walls in sight on the ground floor, circulation is left to define the spatial edges of different areas. Bordered with large windows, views and light create a connection between the interior and exterior.
Flexible and extremely efficient options are offered for the second floor: one-unit plans for two bedrooms, an office and one bathroom; another unit plans for a master bedroom, an ensuite, a second bedroom and bathroom.  Both layouts have generous windows admitting varied and panoramic views.
Our conviction is that with efficient, compact and contextual design these smaller homes can be very appealing and marketable.