Portfolio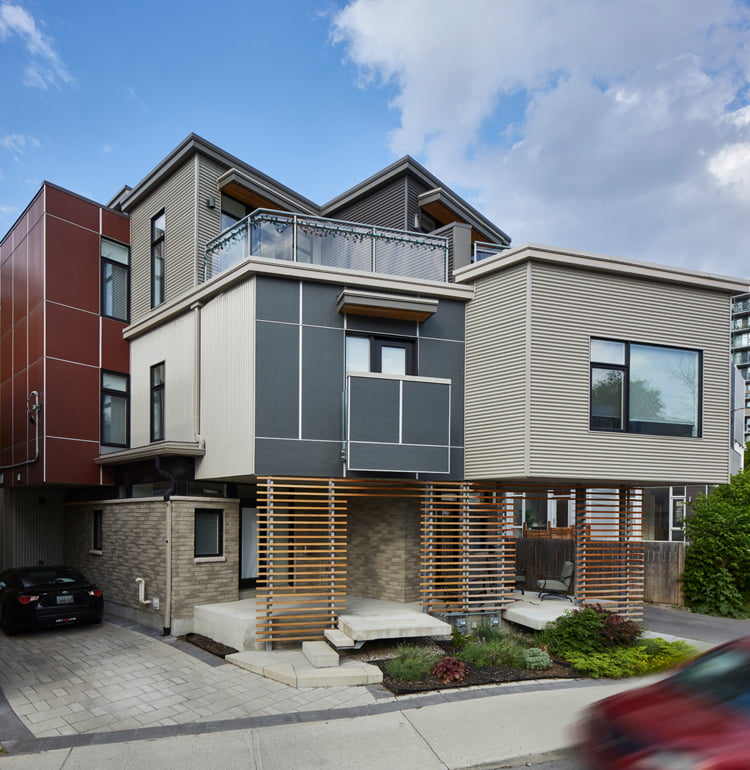 About the Merton Project
In the heart of Hintonburg, this semi-detached home is placed on an irregularly shaped lot. Its placement provides dynamic views of the neighbourhood through great expanses and intermitted horizontal and vertical interior spaces, while still maintaining modest privacy for each unit.
The interior dynamic spaces created through floating stairs and extreme cantilevered volumes within a three-storey atrium, compress and contain space and light.  Suspended bridges of steel and wood, span across the three-storey atrium space providing pathways to both small and large private terraces. Glass panels in place of railings, allow complete light illumination along these passageways, presenting a transparency of space and light
Veiled in privacy, the front entrance and porch is given wooden slated screens to capture the space for each unit and the entrances of the semi-detached homes. The exterior use of cascading constructed shapes and volumes, and materials such as masonry, steel and cement board, chisel and shape the building into distinct units of contained space.