Portfolio
Notre Dame-Belcourt Boulevard
Custom Homes
|
Residential Infills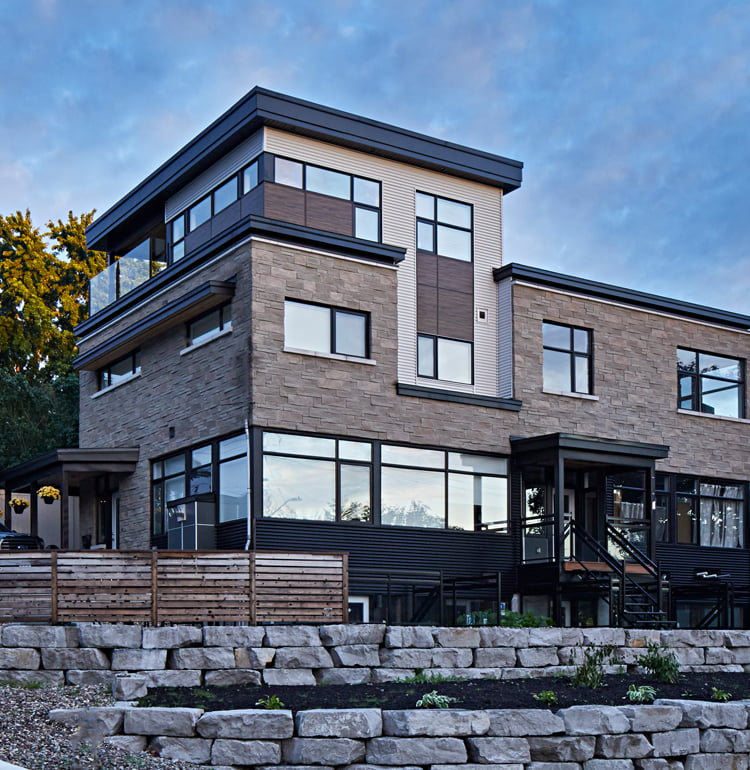 About the Notre Dame-Belcourt Boulevard Project
Located in a mature residential Orleans suburb in the eastern part of Ottawa, this unique semi-detached home gives grand vista views, private entrances and acts as a landmark entity as it sits astride a hilly corner lot.
Perched with great planes of glass, mixed with a variety of materials to articulate a grand façade one duplex is facing Belcourt Boulevard, complete with a grand ascending stairway through a steeply hilled terraced landscape.   Echoing the stairs, the parking lane cuts deep into the hillside to reveal the grandeur of this three-storey development. Undenounced to the casual observer from the street there are great terraced basement windows that allow both light and privacy to the lower level that contains separate single suites for each duplex.
Around the corner and up the hill we come to a second grand entrance offset with a private terrace at ground level and a balcony above.  By using dominating horizontals, a new and unique façade is created for the second duplex facing Notre Dame. Stone and glass hallmark and push and pull elements, while a crowning balcony offers vista views of the neighbourhood and church spire.
Within the interior of the building an open stairway continues to provide a dynamic modern presence as it climbs through the storeys with grand open spaces and multiple bedroom units astride lower special single units.