Portfolio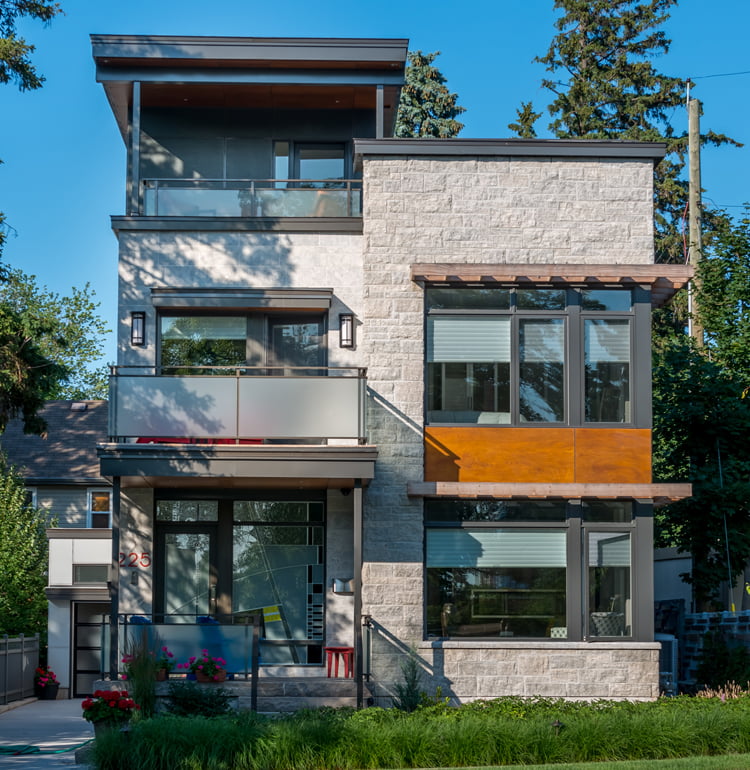 About the McGillvray Project
Replacing a derelict house, a new single family home and garage proudly establish themselves in the curve of two intersecting streets a mere block from the Rideau Canal. The shifting grids of lots on either side meet each other across this property, the gentle sweep of the front yard landscaping echoing the curve.
An elegant two storey stone volume eroded at the corner provides a sense of protection and permits a glazed prism fabricated  in steel and wood to release uninterrupted views to the canal and western light.
The assembly of stepped back and materially distinct volumes towards the rear dissolves mass creating an interesting animation and accommodating high voltage lines running along the southern property line.
A vertical shifting of the two front stone volumes reveals a welcoming recessed entry protected by a second storey balcony, echoed on the third floor canopy.  At the entry, a subtle change of stone textures and intriguing stained glass geometry invites closer scrutiny.  Another gentle curve in the glass recalls the street grids and landscaping sweep, or perhaps it is the curve of the world?  Other hints of measuring markers, transits, Jot subdivisions, fields, oceans of water and even rays of GPS satellites all point to the inhabitant's occupation…
There are really two "interiors": the indoor  spaces flowing into one another defined by the ceiling changes of lowered planes and bulk heads which shift like sliding tectonic plates expressing more intimate areas, or releasing higher volumes for different uses and functions; and its outdoor spaces, including a rear yard terrace enclosed by a fountain and wood feature partially covered for meals and lounging, second storey front balcony viewing down the street, and even a third storey rooftop deck and hot tub surrounded by a realm of trees, skyscapes and meditative calm.